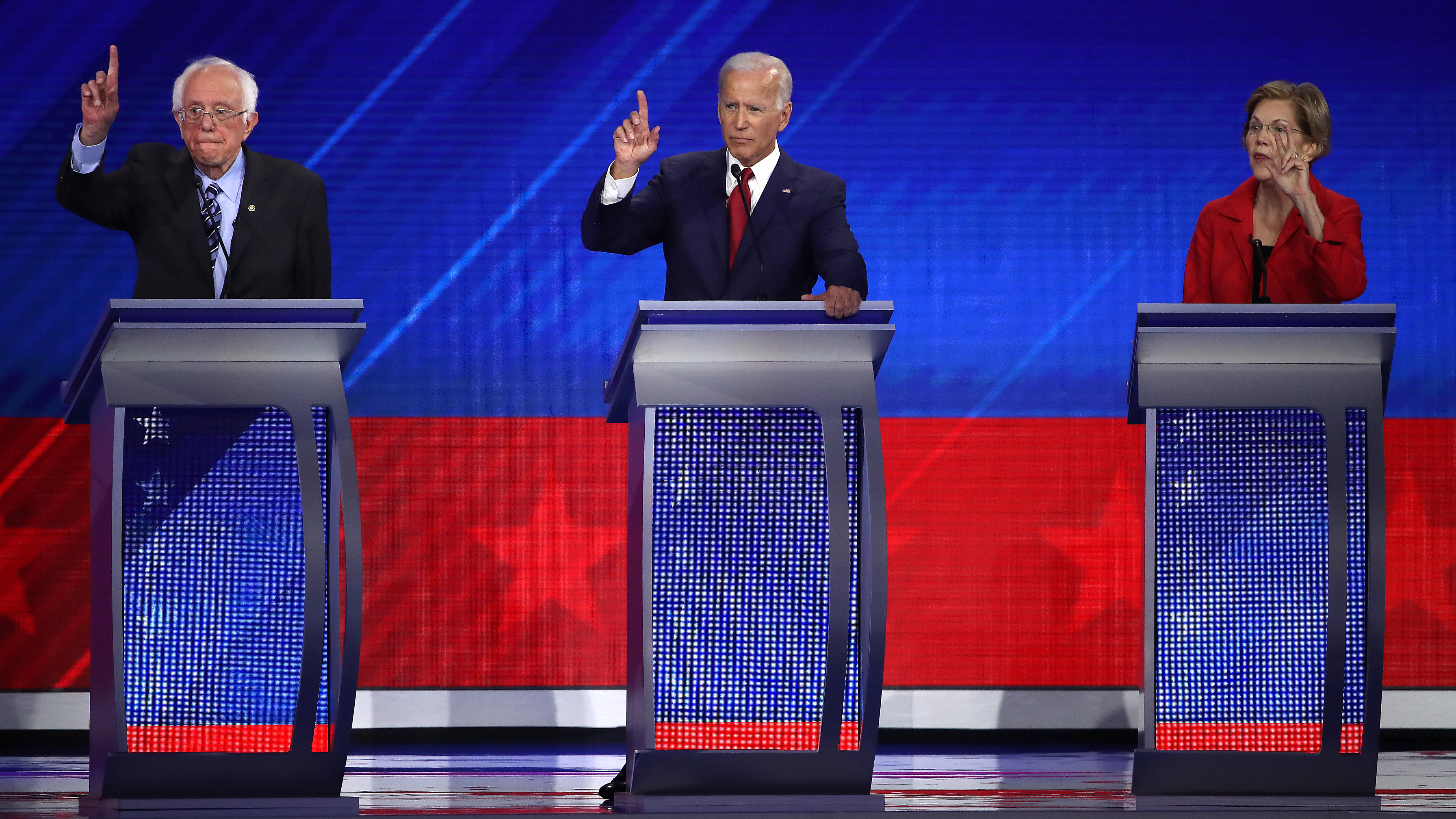 DES MOINES, Iowa - Six of the 12 Democratic presidential candidates remaining in the primary contest took the stage Tuesday night in the final debate before the Iowa caucuses, which are now less than three weeks away.
CNN and The Des Moines Register presented the live debate from the campus of Drake University in Des Moines.
Recent polling has shown a tight race in which four front runners have a good chance of winning the state's first in the nation primary contest on February 3rd.
A Monmouth poll of likely Iowa caucus-goers released Monday showed former Vice President Joe Biden on top with 24 percent support. He was followed by Vermont Senator Bernie Sanders at 18 percent, former South Bend, Indiana, Mayor Pete Buttigieg at 17 percent and Massachusetts Senator Elizabeth Warren at 15 percent.
The most recent Des Moines Register/CNN/Mediacom poll showed Sanders in the lead at 20 percent, with Buttigieg, Warren and Biden separated by just one percentage point each below Sanders. The Register survey also revealed that 45 percent of respondents said they could change their mind before the caucuses.
The four front runners easily qualified for the Tuesday debate, along with Minnesota Senator Amy Klobuchar (Who garnered 8 percent support in the Monmouth poll) and former hedge fund executive Tom Steyer.
With the impeachment trial likely to start next week in the U.S. Senate, the debate may have been the last time the three Senators in the race got to make their case to voters before the Iowa caucuses.
The first topic brought up moderator was foreign policy, specifically military conflicts after recent strikes between the U.S.and Iran. Sanders has been trying to center attention on Biden's vote to give former President George W. Bush sweeping authority before the Iraq war in 2003. Sanders voted against the measure.
Sanders's contrast with Biden didn't last long. During the debate, he pivoted to President Trump, arguing that the president is lying and could drag the country into war again. Biden said he would leave some troops in the Middle East, while Elizabeth Warren said she would bring combat forces home.
Sanders said he hoped there would be agreement among the other candidates that the two biggest wars in modern times, Vietnam and Iraq, were based on lies.
On the United States, Canada, Mexico trade agreement (USMCA), Sanders said he would not vote for it while Warren said she would support it. Amy Klobuchar also supported the trade deal as did Pete Buttigieg. Warren and Klobuchar both mentions hardships experienced by Iowa farmers from trade failures. Biden took issue with Sanders opposition to the USMCA by saying enforceable trade agreements are necessary. Tom Steyer said he could not sign the trade agreement because it doesn't provide protections against climate change.
The day before the debate, CNN reported an explosive story that Sanders told Warren in a private meeting in December 2018 that he did not think a woman could win a race against President Trump. Sanders denied the claim only to have Warren respond that he did make the statement. But Warren also said she didn't want to discuss the private conversation further. During the debate, Sanders denied he made the comment. Warren said she was friends with Sanders and didn't to have a fight with him. She then declared that the only candidates on stage that had won all their election were the two women, herself and Klobuchar, which received rousing cheers from the audience.
On health care, Sanders defended his "Medicare For All' proposal while Biden said it was unrealistic and too expensive, offering instead a public option that he called the "Biden" option. Klobuchar also endorsed a non-profit public option, noting many Democrats in Congress and elected offices opposed Sanders plan. Warren, who dropped in polling after presenting a similar government funded health care plan to Sanders' Medicare For All, defended it for covering all people. Buttigeig plugged his "Medicare for all who want it" proposal as a practical way of handling health care with a cost of $1.5 trillion over 10 years. Estimates for plans offered by Sanders and Warren range from $30-$50 billion. Steyer said corporations are responsible for high health care costs.
All six candidates were largely in agreement that universal child care should be offered with public support.
Buttegieg defended his position against free college for all, saying his plan would provide free tuition for 80 percent of the public and would be targeted to those who needed financial help. Warren said her free college plan would be supported by a wealth tax on the rich. Steyer said poor and minority kids should be offered help with the cost of higher education.
On impeachment, the candidates mostly agreed the process was worthwhile and necessary, even if President Trump is exonerated by the Senate and is politically strengthened moving toward November's general election.
The candidates each offered support for measures to fight climate change and didn't attack each other's proposals. Sanders trumpeted his "Green New Deal".
Senator Sanders also defended his self professed stance as a democratic socialist, saying his policies would carry him to victory in November.
Biden mockingly said he's been on the receiving end of "affection" from President Trump, and claimed he would win the general election with more support from black voters than his fellow Democratic candidates. Trump has often mocked Biden, calling him "Sleepy Joe", and is being impeached after seeking to have Biden and his son investigated by the Ukrainian government.
All the candidates were given one minute to close out the debate. Most of them re-centered their focus on criticism of Trump and the need to defeat him in November. Warren chose to focus on her policies and standing as the possible first female president. Sanders stayed close to his message that the top one-percent of wealthy people is unfairly benefiting at the expense of working people.
The Democratic debate in Des Moines comes as the Iowa caucuses are approaching in a state Trump won by 9 points, the biggest margin of the Obama states that he flipped in 2016.