Winter Storm in Iowa Saturday into Sunday SNOW MAP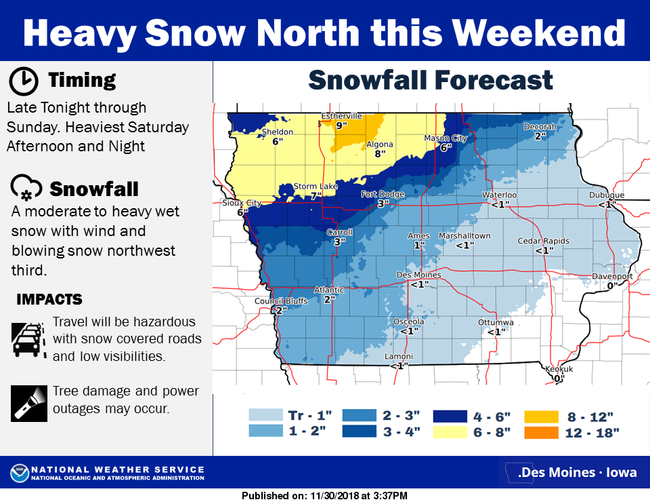 DES MOINES, Iowa - A Winter Weather Advisory is in effect for North Central Iowa and a Winter Storm Warning is in effect for far Northern Iowa, both through noon on Sunday.
A strong storm system is bringing in a mix of rain and snow across the Northern Plains and Upper Midwest, including Iowa, this weekend.
CLICK HERE for most current Iowa snowfall totals from Iowa State University
WHO TV Meterologist Megan Salois says on Saturday, much of Central Iowa is in the warm sector as warm air and lots of moisture are bringing steady rains across southern and central Iowa through the day on Saturday.
Northern Iowa will see a mix through Guthrie County up through the Ames area to Iowa Falls. This is where a Winter Weather Advisory is in effect as the mix may lead to some slick roads. Further north, closer to Minnesota and South Dakota, a Winter Storm Warning is in effect as snow is expected in that part of the state. 2 to 5″ of snow will fall north of Ames to the Minnesota border through late Saturday night. Steady rain will persist in Central and Southern Iowa through the day and much of the evening.
Overnight, temperatures will start to hover right near the freezing mark in Central Iowa including the Des Moines Metro. This will lead to a mix of rain and snow through midnight becoming all snow by morning. We'll see some periods of light to moderate snow through morning on Sunday with 1 to 3″ possible in Central Iowa. Heavy snow will continue in Northern Iowa through Sunday morning and lead to 6 to 8″ in some pockets there.
Winds will be blustery through this all with a cold windy rain today and some blowing snow on Sunday. Temperatures will start to fall behind this storm system and it will get cold with highs in the 20s for most days this week and lows in the teens. We could see another chance of light snow showers on Thursday.