Trump Shown Intelligence Putin Interfered in Election Before Inauguration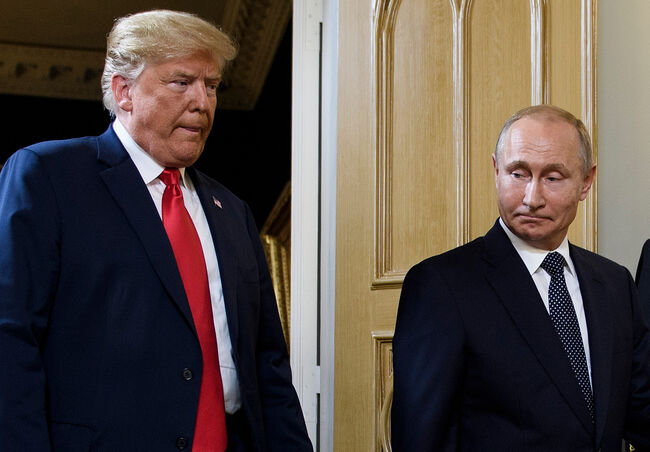 Just days before he was inaugurated as the 45th President of the United States, then President-elect Donald Trump was shown highly classified intelligence that Russian President Vladimir Putin had personally ordered "complex cyberattacks" on the 2016 American election The New York Times reported on Wednesday.
Some of the evidence presented at the meeting at Trump Tower included multiple texts and emails from Russian military officers as well as information taken from a high-level source close to Putin who described the Kremlin's efforts to execute its disinformation campaign against the American people.
The report says Trump was "grudgingly convinced" of Putin's interference in the election, which cited multiple people who were present at the briefing on Jan 6, 2017.
Trump faced increased criticism from both Republican and Democratic lawmakers this week following his press conference in Helsinki Monday with the Russian president. Trump was criticized for apparently siding with Putin saying that his counterpart had been "extremely strong and powerful in his denial" in any effort to meddle in the 2016 election.
President Trump issued a rare correction on Tuesday, saying he had misspoken a single word and did agree with the intelligence community's findings that Russia meddled in the 2016 election.
"The sentence should have been, 'I don't see any reason why I wouldn't, or why it wouldn't be Russia'" instead of "why it would," Trump said Tuesday of his comments he made while standing next to Putin.
When Trump was asked on Wednesday whether he believed Russia was still targeting the U.S., the president replied, "No," contradicting statements from his director of national intelligence, Dan Coats (The White House later said he was responding to a different question).
Trump defended his meeting in Helsinki Thursday morning, calling it a "great success" except with the "real enemy of the people, the Fake News Media."
In an interview with CBS News Wednesday night, Trump says he let the Russian president know that "we can't have meddling" and that he was "very strong" on that point during his one-on-one meeting with Putin.
When he was asked whether he held Putin responsible for election interference, he said he does because Putin's in charge of his country.
Photo: Getty Images