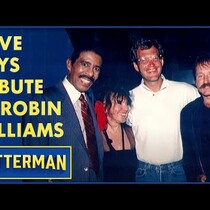 Posted August 19th, 2014 @ 12:11pm
A big thanks to the Ames Convention and Visitors Bureau for having us "On Cyte" at the Farm Progress Show's Central Iowa Expo site. A reminder that the Farm Progress Show is next week--Tuesday, Wednesday and Thursday.
Also...
David Letterman did a great tribute last night to his friend Robin Williams.
It was touching, and really a treat to to see the old clips. As I watched it, I couldn't help but think, "what must it have been like to get a laugh from someone like Robin Williams?" From what I've read and seen since he died, he enjoyed laughing with people as much as he liked making them laugh.